Mobile robotic disinfection by UV-C radiation

MODIS mobile robotic disinfection with UV-C radiation will take care of efficient, safe and fast disinfection of large spaces, and several rooms.The robot is controlled by a joystick and an application. UVC emitters turn off automatically when a person is detected. The solution is completely developed in Slovakia.
Effective and ecological disinfection without chemicals
Disinfection is provided by powerful germicidal UV-C tubes with a light wavelength of 254 nm, which cause damage and destruction of RNA, DNA, proteins, enzymes, macromolecules and biopolymers. The process does not produce any toxic by-products or chemical products that could harm the environment.
The robot is equipped with a 360 ° camera, which serves not only for navigation in space, but also as a security element. The camera can detect the presence of a human, in which case it automatically turns off the germicidal lamps. The robot can be switched off in an emergency with a button on the spot or even remotely.
Perfect dexterity and controllability
Thanks to the unique chassis, the robot can move in an environment with various obstacles such as door sills. The chassis also allows the robot to rotate 180 ° on the spot. Control is provided remotely by an ergonomic joystick and application.
Teleoperator control via WiFi network allows to protect personnel from the need to enter potentially dangerous areas. The robot is controlled using a joystick and an application.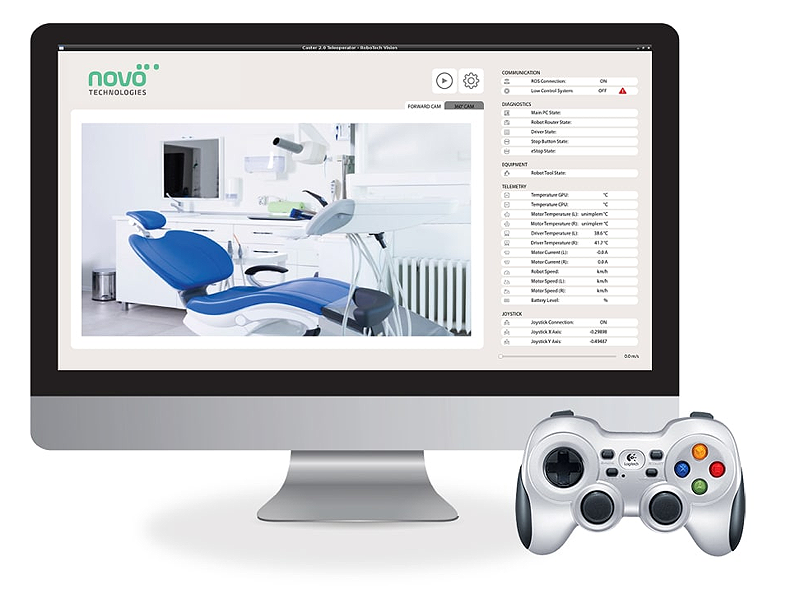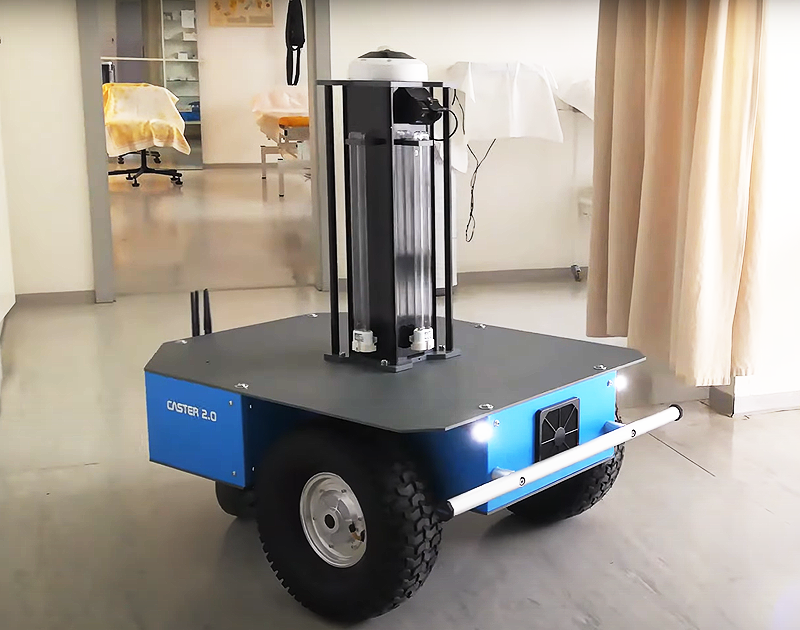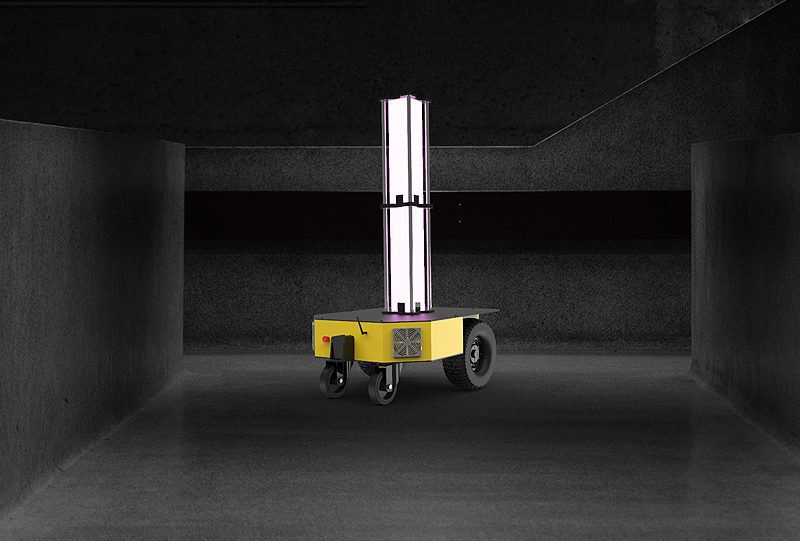 Description and specification

MODIS
Mobile robotic disinfection
kills 99,9 % of bacteria and viruses
effective disinfection of large areas in a short time
contactlessoperation without risk of contamination
maintenance-free drives ensure high agility and smooth movement
automatic switching off of UVC emitters upon human detection
quiet movement thanks to gearless drives
| | |
| --- | --- |
| Material | Steal, aluminium, plastic, rubber |
| | |
| --- | --- |
| UVC emitters | OSRAM PURITEC HNS 60W G13 UV-C |
| | |
| --- | --- |
| Power [W] | 4 x 60 W (room disinfection) |
| | 1 x 60 W (air disinfection) |
| | |
| --- | --- |
| Disinfection speed [m² / min] | 50 m² / 3 min |
| | |
| --- | --- |
| Amount of disinfected air per hour [m³ / min] | 300 m³ / 60 min |
| | |
| --- | --- |
| Radiation wavelength [nm] | 253,7 nm |
| | |
| --- | --- |
| Lifespan of the lamp [h] / number of switch-ons [-] | 10 000 / 2 000 |
| | |
| --- | --- |
| Operating time [min] | 60 min |
| | |
| --- | --- |
| Charging supply voltage [V] | 230 V |
| | |
| --- | --- |
| Connectivity | WiFi 2,4 GHz and 5 GHz |
| | |
| --- | --- |
| Size [mm] | 700 x 1500 x 900 mm |
| | |
| --- | --- |
| Guarantee [mesiace] | 24 months |
| | |
| --- | --- |
| Accessories | Remote control / joystick, network adapter for charging, software, user manual, UV safety sticker |